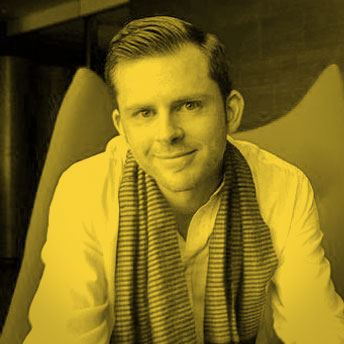 Chris Guillebeau
Founder of the Art of Non Conformity movement.
"Crazy is believing that you can set your own course and still make a good living."
HOW WOULD YOU DEFINE A MAVERICK?
"A maverick is not just a rebel. You know you can rebel against a lot of things, but I think a maverick is maybe thinking more unconventionally. There's this whole thing that comes from The Matrix, that movie, it's been used in lots of other things about how everything you've been told is a lie, and like that you have to go and find your own truth and that's fine but I think it's a little bit simplistic. Because not everything you were told is a lie. Like someone told you to look both ways when you cross the street when you were a kid, that's probably a good thing right. If your dentist tells you should brush your teeth and floss so right. So the challenge in life essentially is figuring out OK what is true and what is a lie? What is my truth? So that's what a maverick does. It's not just rebelling against everything. It's let me be a bit more intelligent here but then when I find out OK what is it that I want to do, what is it that I'm trying to achieve and how can I work with others to make that happen, that's when things get interesting."
CHRIS' BIO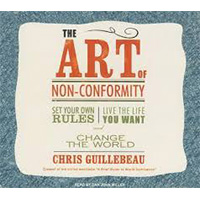 Chris Guillebeau is Founder of a movement called The Art of Conformity . He is a writer, entrepreneur, and world traveller. Over the past five years he has visited every country in the world (193/193), documenting the quest on his blog. His recent books, The Happiness of Pursuit and The $100 Startup, were New York Times bestsellers. He is also author of Born for This and Side Hustle.
Chris produces and hosts the World Domination Summit (WDS),a gathering of thousands of remarkable people that takes place each summer in Portland.
WHY CHRIS WAS INTERVIEWED
I had come across Chris' adventures via his blog and The Art of Non Conformity. As the Business Mavericks are non conformers I thought it was kind of essential to include Chris. I asked him in a room full of people when he was doing a book signing and he said yes. Chris is fun, interesting, knowledgeable, open, wide and diverse.
HOW ARE CREATIVITY AND INNOVATION RELATED TO BEING A MAVERICK?
"Creativity for me is not about painting on a canvas or something. Like I was a musician for a while, but that was a long time ago, so my creativity nowadays is not in the arts or music, which is let's say normal people when they think of creativity they think about those things. Creativity is about expressing oneself and there are different ways to do that. You can think creatively as a business strategist you know or as a whole number of things. Innovation is by nature doing something new right? That hasn't been done before. It's not about improving something. It's about bringing something into life and I'm not sure because I don't see myself as an innovator personally. "
ADVICE FOR OTHER MAVERICKS
"First advice is understand that you're not alone.  Understand that there are people out there who see the world the same way that you do, and it's great if you can connect with them.  But whether you do or not just know that it's ok to do this.  Not that I'm giving permission, they take permission from themselves.  Second thing is figure out what makes you happy, ask why, identify what it is that you want to get out of life.  I've heard it said there's two problems in life:  Knowing what you want and how to get it.  So let's figure the first thing.  What is it that you want?  What can you offer the world?  Thinking through this stuff is kind of helpful."