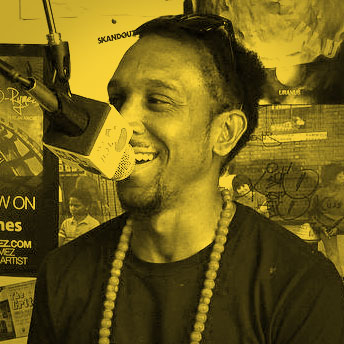 Ian Solomon-Kawall
Founder May Project Gardens and KMT
"Crazy is what success looks like in the future."
HOW WOULD YOU DEFINE A MAVERICK?
"Someone who usurps something that is kind of standardized, or something that's quite the same or kind of diverts it. A maverick is someone that's not considered to be relatively mainstream. Someone that's innovative.  Someone that's pioneering."
IAN'S BIO

Ian Soloman-Kawall aka KMT is a Freedom Teacher Guide who uses art [hip-hop] for social awareness and social cohesion. He is Co-Founder of the May Project Gardens which brings communities together to act collectively. Previously he was Project Manager for Pan Intercultural Arts a company using intercultural performance work to help facilitate self-expression and promote a deeper understanding of our changing cultural identities. They work with a diverse range of communities across London and internationally, empowering people to use the arts as a tool for change in their lives.
WHY IAN WAS INTERVIEWED
Ian was recommended to me by Maverick Luke Hemment who felt Ian would be a good fit for this project. I researched Ian and learnt more about how he uses art to help people change their lives. Ian is alternative, legacy-driven, humorous, multi-talented and open.
HOW ARE CREATIVITY AND INNOVATION RELATED TO BEING A MAVERICK?
"Being creative you have to find a way that works for you. When I get stressed I walk round in the garden. I'm surrounded by nature and that just makes you just look and see the whole world differently."
IS THERE ANYONE WHO'S A MAVERICK THAT INSPIRES YOU?
"So many people I wouldn't be able to put it down to one individual. I think nature is probably my favorite maverick, when you think you understand it, it does something even more amazing and wonderful."
ADVICE FOR OTHER MAVERICKS
"Try, try, try.  Do, do, do."